Bank Transfer Day – Truth Or Diversion?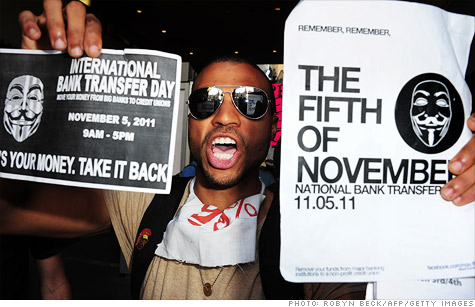 by Zen Gardner
To be honest, I don't think those who need to hear this will even get close to hearing it. They're already duped if they're reading this MSM tripe below. But let's try.
The bank dump is great, and small local banks are better. But big money has already gotten its greedy hands all over it or this wouldn't be mainstream news. It's that simple. They're fundamentally re-directing…like police calmly channeling people to their favorite FEMA camp for protection, they're essentially leading the populace by the nose.
"OK, but stay in a bank!" is the message.
The Famous False Choice
"In this bank or that one, ma'am? Oh, you like the little local one, just fine…I understand your frustration…" Clink.
Watch out, folks. They're stealing and steering your money, attention and energy. C'mon, the MSM news now endorsing going from one bank to another? Think again. The answer's quite simple..get out of the banks altogether and disengage. You're being tooled.
The MSM isn't your friend or answer, which is the fundamental message they'd like to convey. Just look at this piece:
Bank dumping days begin

NEW YORK (CNNMoney) — Customers are dumping their banks in droves ahead of the nationwide "Move Your Money" and "Bank Transfer Day" movements this Saturday.

Given the recent spotlight on attempts — and ultimate failures — by some of the nation's biggest banks to tack on new debit card fees, thousands of disgruntled consumers have already either left or pledged to leave their current bank for a community bank or credit union, which are known for having fewer and/or lower bank account fees.

At least 650,000 consumers have already joined credit unions since Sept. 29, the day Bank of America (BAC, Fortune 500) announced plans to impose its controversial $5 debit card fee, according to a nationwide survey of credit unions by the Credit Union National Association.

That's more than a year's worth of members in a single month — with credit unions adding 600,000 members in all of 2010.

The new memberships in October amount to $4.5 billion in new savings accounts, CUNA said.

And while Bank of America and other banks have since backpedaled on imposing the fees, consumers are making it clear they are still fed up. More than four in every five credit unions said new customers cited days like "Bank Transfer Day" and new fees imposed by their banks as reasons for opening accounts.
It's About Frikking Fees? No Way! It's About Freedom!
Hey, that article's a crock. Do one much better and get out of them all! The big banks own the little ones, don't be fooled. Better in the short term, but way better to pull your money out and buy gold and silver or good farmland and plenty of food and water or stuff it in your mattress. THAT's what they don't want!
Watch out for this false choice steering…"either, or" under their manipulative umbrella. Wake up…It's a con!
Enter The MSM Steering Committee
So these manipulative bastards keep on in this CNN piece. THEY are going to tell us who's the safe haven for your money! And you know how many will fall for this diversion? Way too many!
7 Banks That Are Still Awesome
"We must flee all those banks now!!! They will be adding hidden fees shortly! Drop the credit cards and go to credit unions to avoid this pitfall," one CNNMoney reader wrote.

Meanwhile, the Independent Community Bankers of America said a poll of its 5,000 members conducted on Oct. 17 found that nearly 60% of community banks are gaining customers who are sick and tired of the big financial institutions. The association's community bank locator has seen more than 5,000 inquiries in the last few weeks — an increase of nearly 500%.

By the end of this weekend, accounts at these credit unions and community banks could grow by tens of thousands more. Story HERE
Whatta set up. So?
Which way do you turn? Hey…the real path has nothing to do with their options. Walk away. Take the hand of Truth and walk a while, you'll see things you've never seen before! Withdraw everything you have invested in their projected world…financially, physically, spiritually, emotionally.
Get the heck out. It's collapsing. Life awaits you!
"Tune in, turn on and drop out" was never so real or true! Just do it…time is short.
Love, Zen