Typhoon Busting 101
With the exception of Typhoon Miranae, the rest of the typhoons listed below were obviously manipulated in some way by scalar EM weather weapons which create a lot of Deadly Orgone Energy (DOR). The Sky Guardian transmutes DOR thereby powering down and/or turning the storms. Orgone Artist's version of the chembuster is called the "Sky Guardian".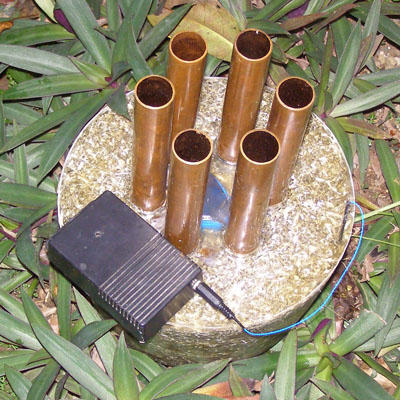 Sky Guardian, Powered Chembuster
Embedded in the resin in the center of the copper pipes there is a large single terminated quartz crystal wrapped with a mobius coil from magnet wire and powered by a frequency box at 30 Hz in a square wave. This enables one to magnify their own intentions by any multiple you choose. Our own beautiful minds are perfectly capable of changing weather patterns (called psychokinesis), especially when the weather is being manipulated by other persons for ulterior motives..our intelligent Earth is more than willing to lend a hand.
On September 26, 2009 Typhoon Ondoy (international name Ketsana) hit the Philippines with such force it caused widespread flooding, billions of dollars in damage and left hundreds dead in its wake. At that time we had our Chembuster on the balcony of our house, pointed straight up as typically oriented with crystals inside the 6 copper pipes. However, there was no specific programming assigned to the crystals with regards to weather control and it seemed that the Chembuster had no effect at all on the storm. Then my wife Christie had the idea to tilt the Chembuster horizontally and aim it at the next storm to approach the Philippines. This made a lot of sense, and to further enhance the orgone matrix power of the Chembuster I decided to make one with a mobius coil-wrapped crystal embedded in the resin and powered up with a frequency box. We named our creation the "Sky Guardian" and it wasn't long before the next storm headed our way. Here came Tropical Storm Parma which would eventually power up to a Signal Four Super Typhoon. So I went to Weather Underground's website and got the latest update on its location. I was able to pinpoint the exact center of the storm using this website's frequently updated maps and with my compass I rigged the Sky Guardian to point directly into the center of Typhoon Parma. Then I cleared, recharged and programmed the crystals to "power down and turn away from landfall" the storm at hand and inserted them into the 6 copper pipes, all the while connecting with the other 6 Sky Guardians deployed on our island of Luzon. Then I asked the earth, water and sky elementals for their assistance and connected them with all 7 Sky Guardians. They responded with joy and dedication.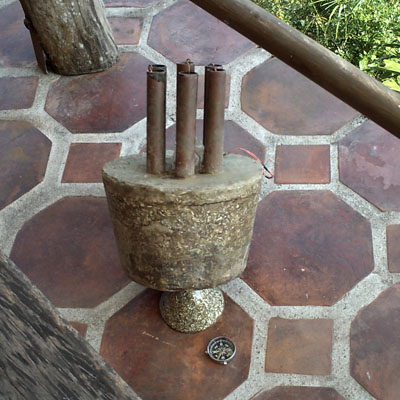 Aiming Sky Guardian At Parma
As I would track the storm online I would move the Sky Guardian to follow the center of the storm as it progressed towards the Philippines. See the map history of
Typhoon Parma
below to view the results.
Below are "Histories" of the major typhoons to come towards the Philippines in 2009. The maps are gathered from
Weather Underground
's website. I have added the violet-colored circles to indicate the estimated area of effectiveness (zone of influence) of the seven Sky Guardians deployed throughout Luzon island.
Typhoon Miranae was an entirely 100% natural storm and drove straight across Luzon. The Sky Guardians had no effect on its power or course since there is no excessive DOR created by natural storms. However, as you can see all of the rest of the storms became effected immediately upon entering the zone of influence of our Sky Guardians.
Weather Control Weapons Publicly Admitted
"Others [terrorists] are engaging even in an eco-type of terrorism whereby
they can alter the climate
, set off earthquakes, volcanoes remotely through the use of electromagnetic waves… So there are plenty of ingenious minds out there that are at work finding ways in which they can wreak terror upon other nations…It's real, and that's the reason why we have to intensify our [counterterrorism] efforts."
Secretary of Defense William Cohen at an April 1997 counterterrorism conference sponsored by former Senator Sam Nunn. Quoted from DoD News Briefing, Secretary of Defense William S. Cohen, Q&A at the Conference on Terrorism, Weapons of Mass Destruction, and U.S. Strategy, University of Georgia, Athens, Apr. 28, 1997.
Source: The Tom Bearden Website
2009 Typhoon Season, Philippines
Super Typhoon Parma
(man-influenced storm)
Super Typhoon Melor
(man-influenced storm)
Tropical Storm Nepartak
(man-influenced storm)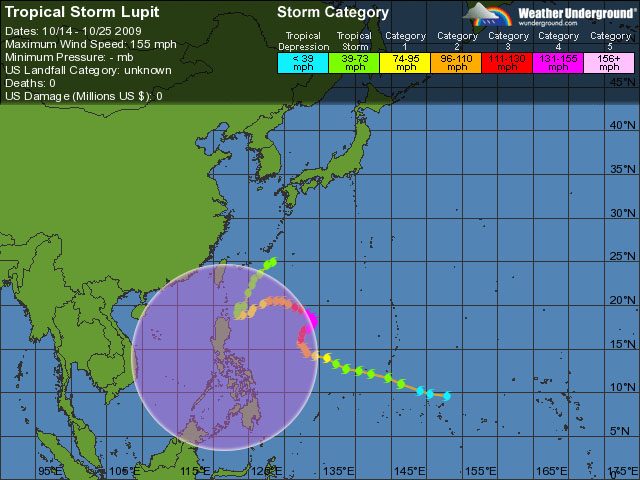 Super Typhoon Lupit
(man-influenced storm)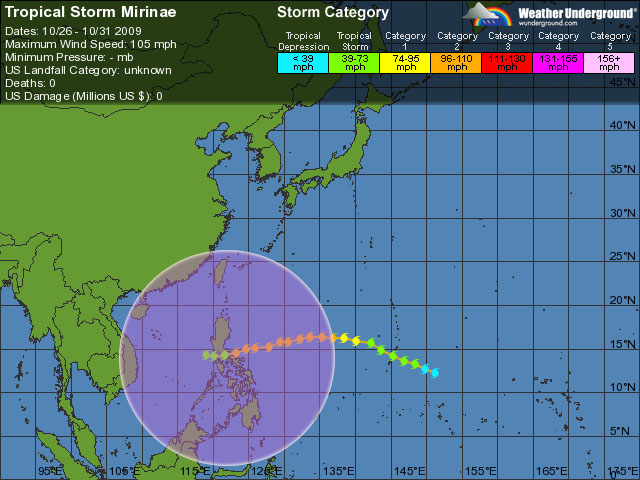 Typhoon Mirinae
(100% natural storm)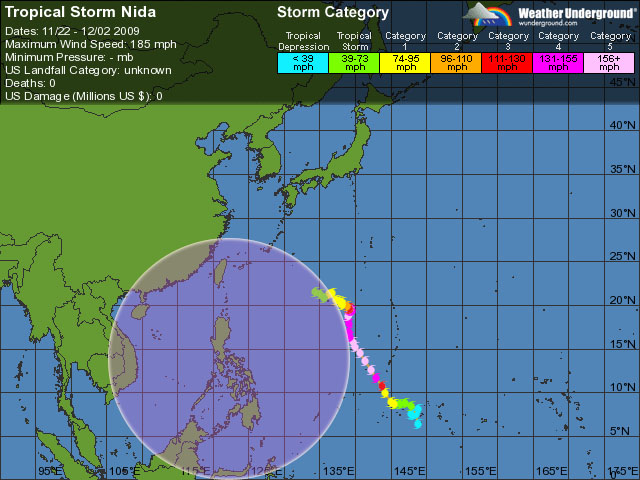 Super Typhoon Nida
(man-influenced storm)
2010, 2011, 2012, 2013 Typhoon Seasons, Philippines
The results of using our Sky Guardians for the subsequent years after 2009 have been pretty much the same. We also have the results documented using the Weather Underground maps and the results are available upon request, just send an email to info@orgoneartist.com. Although some typhoons since 2009 did cause destruction and injuries, even deaths…if you examine the history of typhoons prior to 2009 you will see a pattern of extreme storms, massive destruction and many, many deaths and injuries. It is our observation that from 2009 until the present, our efforts using Sky Guardians have significantly reduced the severity of storms.
You can also be effective in your own area in controlling man-made and man-influenced storms. To find out more about what you can do just send an email to info@orgoneartist.com, attention: Fred Gunn.
[Stay tuned for more....Zen]
See also Orgone and Orgonite – A Primer
+++