Why They Fear Freedom
Free energy Inventor/pioneer Nicola Tesla before his work was destroyed–as has happened to many others
by Zen Gardner
The famous story is told of Nicola Tesla and his encounter with Illuminati bankster J.P. Morgan. When Tesla explained how his free energy discovery would work, Morgan said, "If anyone can draw on the power, where do we put the meter?"
End of relationship, end of another attempt at free energy.
The strangling Sphinx guarding the great pyramids (symbolic of the Illuminati power structure)
The Stranglers
It's well known that big oil suppresses alternative energy solutions, never mind free energy. They just give it lip service.
From the beginning the Illuminati owned oil companies solidified their power base, starting with claiming oil was a fossil fuel to give the impression of scarcity and unsustainability to insure top dollar for this otherwise free, naturally regenerating resource.
"He Who Controls the Past, Controls the Future"
They've always been big on miss-education. After all, build on a false premise and once the uninformed see some sort of 'building', they'll assume it's built on something real or substantial. This has been done in every area of our lives. As Orwell said, "He who controls the present, controls the past. He who controls the past, controls the future." Profound truth.
Water was once free. For now we can farm our own food–new legislation is trying to outlaw that as well. Even seeds are being patented by protected mega corporations like Monsanto. There's a plethora of stories about hydrogen, water and magnetic powered vehicles and generators that have been suppressed, the inventors often disappearing or "suiciding" themselves.
The Internet Resource
Now our last, vast river of social and intellectual life, as far as freedom of information and idea exchange is concerned, is in danger. Already we're paying for Internet providers, constantly upgrading equipment, copyright issues, and having to endure an onslaught of advertising and privacy invasion. That's understandable.
Controlling Knowledge and Spirit
But freedom of expression is another story. And there's still way too much freedom going on, and you know the Controllers are just itching to clamp down on it.
Already invaluable tomes of ancient wisdom are kept under lock and key in places like the Vatican. Successive conquerors pillage libraries as happened in Alexandria, Egypt in an effort to erase inconvenient truths. Information control is perhaps their biggest concern. Why?
Freedom is the Enemy of Control
To allow natural forces to work requires an innate faith and sense of spirituality. Spiritually sound people and those with healthy relationships with Spirit, other people and nature find it only 'natural' to let natural forces run their course with only a touch of 'gardening' necessary on their part. We're conscious entities entrusted with the stewardship of our bodies and the world around us.
Not so for the self-serving Control freaks. Due to a lack of conscious awakening, spirit or sometimes even a soul it seems, these entities see life as a greedy battle for supremacy. To just let things take their course, helping those in need and having a deep appreciation for the gift of life and the wonders of the Universe, is anathema to them.
A Time for Guidance
Responsible leadership in situations that need guidance is one thing. Like good parenting or caring for those we love, there's always a balance between caring and smothering, and guidance and over-control. The love, peace and truth seeking souls will "inherit the earth" but it won't be until after the coming conflagration.
Our best preparation is to be in tune–with God, Spirit, Truth, Love, the Universe. True love seeks the benefit of others even above its own. In a world powered by such spontaneous creativity we can easily affirm and manifest a happy, harmonious and abundant planet.
Vibrational Warfare–Draw the Line
But there's always the temptation to control–especially in a world that glorifies power and sets everyone on a path of competitive accomplishment. The fear of scarcity and lack of control they've inculcated into society has effectively turned human beings into scurrying, semi-conscious human 'doings', never able to stop and realize the majestic beings they already are.
Lust for power is a low vibration we have to beware of on our journey here, but it seems for some it's their reason for living. Unfortunately, their lusts and craving requires the participation of the rest of us and involves our enslavement to their control paradigm. This is where we have to draw the line.
As life progresses, the struggle between what we call good and evil becomes apparent. Religions attempt to mystify and detach us from these concepts. These negative powers, however, are very real, and are integral to our knowing what motivates these power crazed entities.
I'm convinced it's a spiritual warfare, however you want to picture it. Some say it's simply a battle between God and Satanic forces from an evil realm as in the Bible. Others feel it's an alien dimension trying to control our planet. Either way, something is amiss and this conflict has other dimensions we're just becoming aware of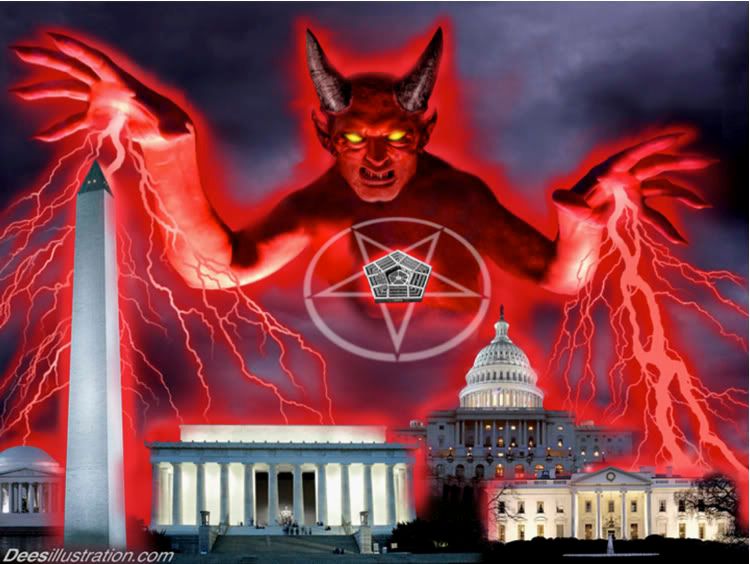 Who Are They?
That the Illuminati are a cult of some sort that seeks to rule the world and enslave humanity sounds foolish to many. After all, we've been told thinking like that is conspiracy talk, and we all know that's not rational thinking.
Nice try. If you were such a cult, what method would you use to keep people from identifying you or talking about it?
A huge percentage of  our planet KNOW this is spiritual warfare.  It's only the mainstream leaders of the media, education and government who will tell you otherwise, unless they invoke the concept to sway public emotion, like W and his almost comical blaming of the "evil doers".

The Religion Cover-Up
Religions, on the other hand, acknowledge good and evil, but divert your attention to the false enemies of the Controllers' choosing, locking the world into these right-left, us vs. them paradigms. I meet so many Christians who say they're Bible believers, which clearly states the 'powers of this world' are basically evil and evilly used, yet the idea that a government would enact a 9/11 type event on its own people is just beyond them. Notice how similar the emotions that patriotism and religion evoke.
Kindo' like a football game, wouldn't you say?
(Thought I'd do Americans, didn't you. It's everywhere.)
And guess who invented football and basketball?
Yup, freemasons. It's all in the game.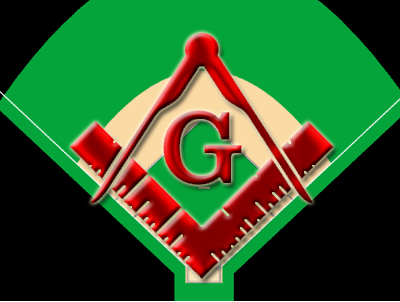 The Irony of Evil–The Controllers Are In Total Bondage
The very Controllers who work so hard to subdue the world's population are themselves the most enslaved people on the planet. Our tendency is to look at them as the powerful bad guys, when in fact they are empowered and completely controlled by forces beyond their control.
Like lab rats, if they push the right buttons and perform their duties, they're rewarded with massive wealth, sensual delights and greater power.
Call it evil, call it lower dimensional entities, whatever. They all report up the pyramid.
Notice the eye above the Queen who represents the bloodline rulers..they report to that.

It Can Only Happen With Our Agreement
The beauty of conscious creation is that we have the majesty of choice, and nothing can interfere with that. What the controllers don't want you to know is: your willing compliance is the last step in their daily as well as total takeover.
Apparently this concept is a universal law, and to me it makes sense when we've been given this "majesty" of free will. Called the 'galactic protocol' or the 'prime directive' by science fiction writers, it is a concept worth thinking about. Even just pragmatically speaking, if we just sit still and take what's coming at us, the aggressor, assuming there is one, will overwhelm us. We have decisions to constantly make.
However if we, as free moral and spiritual agents, do not cooperate in their fraudulent paradigm, can they persist? Will we be free by simply not participating? Gandhi proved it works on a political level and temporarily freed the Indian people from the Illuminati ruled British Empire.
It's working in my life as I disentangle my mind, body and spirit from the constant nets thrown over our souls by the false paradigm enforcers. Seems it's a lifelong process, but once your goal becomes this real goal and meaning for existence, every day is a thrill.
It all depends on how many wake up and refuse to cooperate with their lies. You'll know it when it happens to you–then facilitate it for others. We can't force anyone to become aware, but we can sure peel some of the false concepts and deceitful conceptual layers off to make it a little easier.
The awakening depends on each of us.
That is truly a wonder. And warrants action. – Zen